Finding your dream dog online shouldn't be stressful—but with thousands of breeder options (many of them bad), that's often how it feels. When you're looking for a humanely and ethically raised puppy in Texas, you're right where you need to be!
Let's show you why...
The current landscape...
Somehow, dogs just seem to be getting more and more popular than they already are. From classic pooches like the Labrador Retriever to modern hybrid breeds like the Goldendoodle, it seems we're in the middle of peak canine mania.
The HUGE problem is...
While finding a puppy online is easier than ever before, finding a happy, healthy pooch is tougher than ever. Backyard breeders, con artists and puppy mills take advantage of families every day with poorly bred, mistreated pups.
Separating the wheat from the chaff is tough. Your average search online will deliver hundreds of results—both bad and good. Unfortunately, even a bad breeder can look good with the right marketing and advertising...
Welcome to Texas Puppies for Sale
No puppy mills. No inexperienced, backyard breeders. No scams. Texas Puppies for Sale screens and vets America's top businesses and breeders so you don't need to. Ready to bring home your dream dog?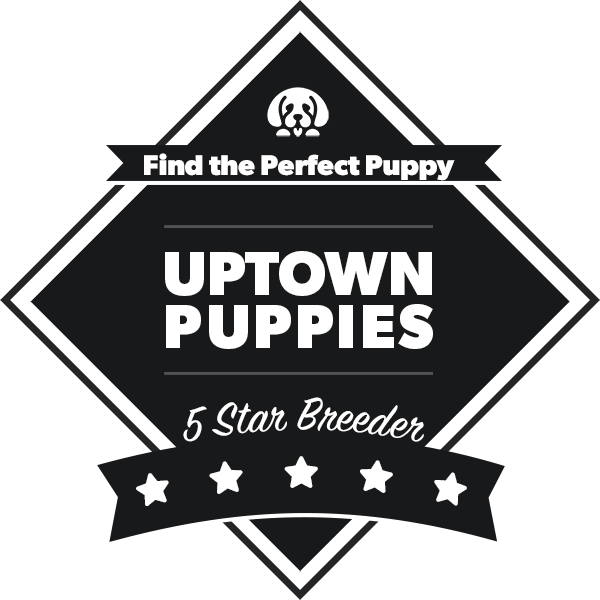 Look for the Badge
Breeders who wear the 5 Star Breeder badge of approval are legally bound to uphold the 47 breeder standards of ethical and honest dog breeding. What does this mean to you? Simple. When you find a puppy at Uptown, you're not just getting a dog--you're getting peace of mind that your new best friend is coming from an experienced, ethical breeder who loves dogs just as much as you do.